Yule log, chocolate cake, brown sugar fudge, gingerbread cookies… Resisting the holidays' typical sweet treats can be quite a feat. But who said you have to forgo them entirely? Follow along!
Plan for a healthy diet. Of course you are allowed to treat yourself. No need to hibernate until the holidays are over! It just means balancing the rest of your diet will be even more important; basically, make healthy choices most of the time.
Pick your battles. It's all about moderation. Decide which treats you want to indulge in ahead of time. Choose your favourites. For example, if you're having dinner at grandma's and you know she'll be serving her famous apple pie, adjust your other meals accordingly that day. Remember that beyond their sugar content, desserts are often high in carbohydrates.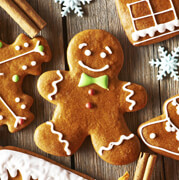 Be reasonable. Learn to respect your limits and beware "unconscious" snacking; for example, when you're chatting with someone and start eating the candy or cookies sitting on the table without really realizing it. A good idea to limit your servings is to split a dessert with someone. Oh, and you don't really need the little extras that add a heap of calories, such as ice cream or whipped cream.
Substitute! In most recipes, sugar can be replaced with a sweetener, and applesauce or fruit purée can take the place of half the fat. The icing on the cake? It tastes just as good!
Here are a few other substitution ideas to make your choices a bit healthier:
• Low-fat popcorn instead of caramel popcorn = save 32 g carbs per cup
• Hard sugar-free candies (such as Sugar Free Werther's) instead of caramels = save 72 calories per candy
• Roasted almonds with cocoa instead of chocolate-covered almonds = save 13 g carbs per 30 g serving
• Homemade chocolate-covered cherries instead of store-bought ones = save 46 calories per cherry
• Dark chocolate instead of truffles = save 14 g carbs per square
• A small slice of pumpkin pie instead of a piece of pecan pie = save 28 g carbs
• Gingerbread cookies instead of sugar cookies = save 29 calories per two-cookie serving
 
By following these tips, you'll be well equipped to satisfy your sweet tooth during the holidays—without losing control of your diabetes! Bon appétit!
Get 24/7 diabetes support

Join the Accu-Chek engageTM program and access many resources along with special offers