The warm weather is finally here: time to cut loose on vacation, go on a picnic excursion, or laze by the pool. Let the good times roll!
Here are a few ideas to help you get your proper dose of vitamin Sun this summer.
Create your own personal oasis  
After all those months of hibernation, the deck and the back yard are finally yours to enjoy! Since you're going to be outside a lot, why not fix up your outdoor space just the way you like it? Plant a few fragrant flowers here and there, create a hanging garden and grow your own vegetables, set up your hammock to gaze up at the night sky, hang some bird feeders and wake up to birdsong in the morning… let your imagination run wild. There's just one small thing to bear in mind, though: lazy evenings on the deck are often enjoyed with snacks and alcoholic beverages, a combination that is high in calories and can quickly elevate your blood sugar. Just make sure not to overdo it!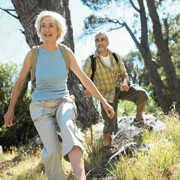 Colour your world
No, we're not recommending that you take up tanning… we're talking about seasonal fruits and vegetables! There's no better time than summer to enjoy fresh, local flavours at affordable prices. Lucky for you, fruits and vegetables can be a great help in managing diabetes: because they are high in fibre, they slow the absorption of sugar, lower cholesterol and help regulate blood pressure. For the cream of the crop, we recommend stopping by farmers' markets and roadside fruit and vegetable stands. You can also roll up your sleeves and go berry picking—an activity the whole family can enjoy.
Get up and get active!                                                                                                                                
We all know the usual wintertime cop-outs: it's freezing, the sidewalks are icy, and so on. But all those excuses melt away in summer, when there is no shortage of physical activities to get out there and move. Not convinced yet? Here's another angle: physical activity gives you energy, relieves stress, helps lower insulin resistance and helps control diabetes. Ready... set... go!
And above all else, have fun!
Too often, autumn comes around and we're stuck wishing we had gotten out and enjoyed the summer more. Let's guard against that this year! Why not go on an adventure to discover or rediscover your province, your area or even your city? Take up a new pastime? Take in a summer festival or two? Visit a national park? The possibilities are practically endless: it's up to you to take full advantage!
References:
Canadian Diabetes Care Guide, "Summer Nutrition Savvy: Lazy days don't mean a lazy diet": https://wildcard.hostgator.com/summer-nutrition-savvy-lazy-days-lazy-diet/. Accessed March 24, 2014.
Diabetes Health, "Summer Eating Tips for People with Diabetes": https://www.diabeteshealth.com/read/2012/04/23/7507/summer-eating-tips-for-people-with-diabetes--/. Accessed March 24, 2014.
Diabetes Health, "Suggestions for Safe and Healthy Summer Eating": http://diabeteshealth.com/read/2005/08/01/4330/suggestions-for-safe-and-healthy-summer-eating/. Accessed March 24, 2014.
Canadian Diabetes Care Guide, "Boost Your Vegetables And Fruit: To Get More Fibre Each Day": https://wildcard.hostgator.com/boost-vegetables-fruit-to-get-more-fibre-each-day/. Accessed April 10, 2014.
Diabetes Quebec, "Living with diabetes: The benefits of physical activity": http://www.diabete.qc.ca/en/living-with-diabetes/physical-activity/benefits/the-benefits-of-physical-activity//. Accessed April 10, 2014.
Receive our newsletter

Filled with interesting and useful information related to diabetes.