Do you recognize the fragrance that's filling the air in your neighbourhood?
That's right, the barbecue season has begun! You put on your apron, ready to impress everyone with your grill mastery… when suddenly, the question arises. Is this cooking method compatible with diabetes management?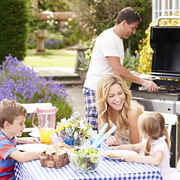 Good news: it's absolutely possible to cook healthy meals on the barbecue. The important thing to keep your blood sugar under control is to aim for balanced nutrition, limit fats and high-fat condiments… and choose the right foods! Look beyond traditional hamburgers, hot dogs and steaks: marinated chicken breasts, fish fillets and tofu are excellent options that are low in fat and high in protein. But don't underestimate vegetables! Simply brush them with olive oil and grill them for a few minutes and voila! You have a veggie dish or side dish that's brimming with flavor. And what would you say if we mentioned desserts on the grill? You read that right! Try barbecuing pitted and halved peaches, quartered nectarines or pineapple rings. Your taste buds (and your guests) will keep coming back for more!
Today, we offer you two delicious and diabetes-conscious summer recipes: grilled mango chicken and grilled veggie wraps. Get grilling, and enjoy!
 
Grilled Mango Chicken
This slightly sweet and citrusy dish will be fabulously successful at your next barbecue.

Instructions
1. In a large resealable marinating bowl, combine chicken with remaining ingredients. Place in refrigerator and marinate 8 hours or overnight, turning the bowl halfway during marinating time.
2. Preheat grill to medium-high heat. Place chicken on grill, discarding excess marinade. Grill chicken 4 to 6 minutes per side or until cooked through.
                     
Grilled Veggie Wrap
Simple, quick and delicious: what more could you ask for?

Instructions
1. Preheat an indoor or outdoor grill.
2. In a large bowl, whisk together olive oil, balsamic vinegar and ground black pepper.
3. Add sliced zucchini, squash and bell pepper to marinade and let sit for 5 minutes.
4. Grill the vegetables about 2–3 minutes on both sides.
5. Lay out the tortilla and spread with 2 tablespoons hummus, then add two fresh basil leaves and top with 2 slices of zucchini, 2 slices of yellow squash and 1 slice of bell pepper.
6. Fold in the two sides of the tortilla and roll like a burrito. You can serve these immediately or wrap tightly in a bowl and refrigerate.
 
Get 24/7 diabetes support

Join the Accu-Chek engageTM program and access many resources along with special offers