Connect with your diabetes
With the right community and the latest technology, people are no longer putting their diabetes first, they're putting their lives first.
"It's not
only about
living with it,
it's about
thriving."
"Diabetes
taught me
how to live
healthy."
My name is Stephanie Brodie. I'm 25 years old. I've been diabetic since I was 14 years old.
Q: The good parts of diabetes. I guess you never would have thought that'd be a sentence. A: It actually has been awesome because it's taught me, like I said, how to live healthy. It led me to lead a more active and more healthy lifestyle.
Q: The most frustrating part. A: One of them is getting my insulin tube stuck on a door knob. That's never a good time. Diabetes gets in the way a lot. It takes up a lot of time.
Q: The positives of diabetes. A: It teaches me how to be active, how to be healthy and how to control that.
Q: Advice I would give to a newly diagnosed diabetic. A: Get involved with things. Open yourself up and try not to make it a negative experience.
"Technology
gives me the
strength of
adaptability."
"I am a wilderness
canoe trip guide.
I play ball hockey.
I play on two baseball teams."
"I think everyone
who has Type 1
is a little bit hard
on themselves."
"It might pause me.
But I won't let it
stop me."
"Connected in Motion
has allowed me to realize
what I'm capable of."
"The more support you
have, the less you
have to worry."
"Get support.
Don't hide behind it.
It's not your fault."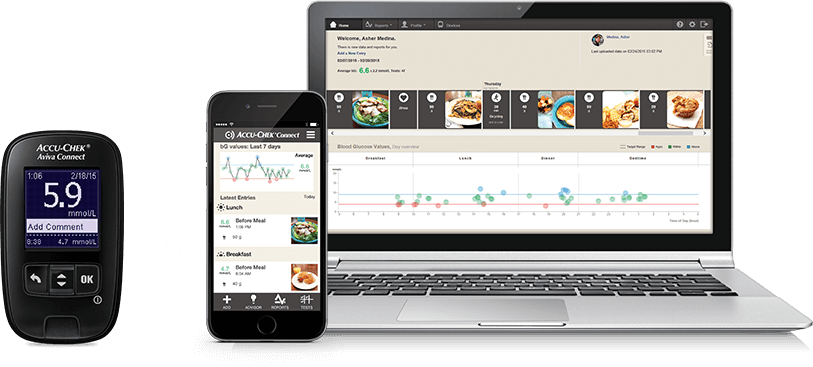 Don't just live with your diabetes. Thrive.
Introducing the Accu-Chek Connect system. Automatically log,
view and share your data so you focus on living while staying connected to your diabetes.
Get connected

The Accu-Chek Connect SystemStay connected to your diabetes