English
Picture this: it's Valentine's Day and all that chocolate is looking mighty fine. You'd like to enjoy a good dinner without worries—so what do you do? Do not fear, here we come to the rescue. Here are three ideas to celebrate the occasion while keeping your diabetes managed.

1. This year, forget about overcrowded restaurants and prepare a five-star meal in the comfort of your home by drawing inspiration from Ricardo's excellent recipes for people with diabetes. You'll have peace of mind knowing what's on your plate—and nothing beats a dinner cooked with love.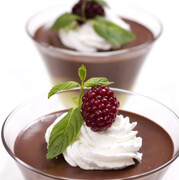 2. Create the perfect dessert with the chocolate berry parfait recipe written below! Here's a reminder for when you're shopping for Valentine's Day: dark chocolate is better than white and milk chocolate as it contains antioxidants and less sugar.
Nutritional facts
Serving size: ½ cup

Calories: 115
Carbohydrate: 23 g
Protein: 4 g
Fat: 0 g
Saturated fat: 0.1 g
Dietary fiber: 1 g
Cholesterol: 0 mg
Sodium: 260 mg
Ingredients

1 box (4-serving size)
sugar- and fat-free chocolate pudding mix
2 cups
nonfat milk
½ cup + 12 tablespoons
fat-free whipped topping
¾ cup
strawberries, sliced
¾ cup
blueberries
Preparation
1. In a bowl, whisk together the pudding mix and the milk according to the package directions.
2. Fold in ½ cup of whipped topping.
3. In a parfait dish or a martini glass, layer ¼ cup of pudding, 2 tablespoons of strawberries, 2 tablespoons of blueberries and ¼ cup of pudding. Top with 2 tablespoons of whipped topping.
4. Repeat for remaining five servings.

3. Take advantage of this special day to indulge. Book a relaxing afternoon at the spa, go to the movies, take a romantic walk somewhere you like… the important thing is to have a good time!
Happy Valentine's Day!
Article Title:
Delicious Valentine's Day
Thumbnail: